Wiki Targeted (Entertainment)
Play Sound
"Wookieepedia is a lavish and stunning homage to the Star Wars pop cultural phenomenon. Thanks to its professional appearance, the scope of its content, the quality of its writers and diligence of its administrators, Wookieepedia has become a valuable resource to fans both casual and obsessive, as well as to Star Wars authors. It's becoming the new nexus for everyone who wants to know as much as Yoda about that galaxy far, far away."
Wookieepedia, the Star Wars Wiki, is a wiki that was started on March 4, 2005, and strives to be the premier source of information on all aspects of the Star Wars universe. This includes information from Star Wars Canon and Legends stories, encompassing films, books, games, and other media, as well as information of value to fans. The Star Wars wiki is inspired by Wikipedia, but expands on Star Wars information in greater detail and with more freedom than Wikipedia can. Wookieepedia was founded when Wikipedia users began to complain of the overabundance of minutiae related to Star Wars appearing on Wikipedia. Since then, it has expanded to become one of the largest wikis on the Internet.
As a fan-created encyclopedia, Wookieepedia is not intended to be a primary source, nor is it a replacement for the Encyclopedia, the Databank, or any other official source. Rather, it serves as a fan effort to summarize all aspects of the Star Wars universe in the best way possible, while pointing the reader to the respective official sources.
History
The founding of Wookieepedia
Evolution of a wiki
"So we'd call it Wookiepedia? [sic]"
―Chad Barbry, first suggesting the name of the Star Wars Wiki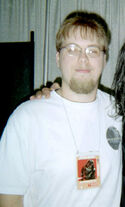 Wikipedia is a collaboratively developed, free content encyclopedia. It is a general-knowledge encyclopedia, rather than being specific to one topic (as Wookieepedia is Star Wars–specific). Because of this, it is not always particularly friendly to in-depth knowledge specific to a given fictional universe. Founded in 2001, Wikipedia allows anyone to edit it. Due to the broad nature of its editors, the site covers a wide variety of topics, and has millions of articles.
Chad Barbry, under the screenname of "Cbarbry," was a regular contributor to Wikipedia, participating in a number of different subjects within the online encyclopedia, including Biblical history and technology since October 17, 2004.[1] In January of 2005, Steven Greenwood joined Wikipedia under the screenname of "Riffsyphon1024," adding articles in the subject of geography and popular culture. Immediately after working on these articles of interest, he took the job of sorting the various Star Wars articles on the site. As Wikipedia was concerned, only notable items would have complete articles, with the rest of the minor subjects with descriptions on a giant list. Planets, characters, weapons, and vehicles were all done in this manner. Over a short period of time, Steven found that he disliked this format and sought another way to gather and place information on the saga and its Expanded Universe. On January 21, Steven posted on a section on a talk page regarding the creation of a new Star Wars Portal, but suggested that instead of a portal it should be a wiki. [2]
Two days later, Chad entered the discussion and began working out ideas with Steven. Both agreed that this new project would run alongside Wikipedia as a separate, but equal entity—something more than simply a WikiProject. It was here in the discussion that Chad proposed the new nickname of "Wookieepedia," which caught on with Steven and others immediately, and the idea was trailblazed (Steven's request of "Wicketpedia" was an alternate name which did not work nearly as well). However, since Steven was not sure how a new wiki would be created, Chad contacted Angela of then Wikicities (then Wikia, now Fandom) and requested the creation of the new wiki.
Wiki creation


Other Wikipedia contributors seemed to be getting more hostile toward new Star Wars articles, so in February 2005, Chad decided to make a request of the Wikipedia Board of Trustees to make a "Star Wars Wiki." His intent was more than just another WikiProject, but an official sister project similar to Wikiquotes. He thought the best solution was a separate, but linked project—a project that was separate enough for the "anti-cruft" Wikipedians, but still one that was officially Wikipedia, so there would be no need for redundant articles between the projects.
In early March 2005, after meeting, the board came back with their answer. They did not want to move Wikipedia the direction proposed by Chad, but recommended creating a Star Wars Wikia. Angela of Wikia was on the Board of Trustees, and contacted Chad to let him know of the board's decision and to set up the new Star Wars Wiki.[3] Part of the process that Angela set up was creating interwiki links so Wikipedia could link to Star Wars Wiki articles and vice versa.
The wiki came online on March 4, 2005, though it sat idle for a few days. Chad, now under the screen name of "WhiteBoy,"[3] was the first user to officially edit the new wiki on March 9, starting with the logo and the moving of articles from Wikipedia to Star Wars Wiki space. The next day, Steven joined the site, using his previous Wikipedia screenname.[4] A third Wikipedian edited that day as well, and was able to add some key image templates to the wiki, before leaving the project altogether.[5] By the first few months, numbers of editors from both Wikipedia and across the web would dramatically increase.
For a brief time, there was some confusion as to how to move articles over from Wikipedia. Chad devised a template for use on Wikipedia to place on talk pages of articles of interest, alerting users that the article would be redirected or moved entirely. The idea was to move as many existing articles from Wikipedia to the new wiki, under the GFDL, making sure to save those under threat of deletion first, and then "wookify" them to the new wiki's standards. The hope was that, though separate, Wikipedians would begin to put the more obscure articles (essentially anything but the most encyclopedic of articles) in the Star Wars Wiki. Main articles, such as Luke Skywalker, would remain at Wikipedia.
Wikipedians in general ultimately saw the Star Wars Wiki as an external site, one not affiliated with Wikipedia enough to actually "transwiki" articles over, like one would with Wikibooks or Wikirecipe. Creating redirects to the Star Wars Wiki was not what the Wikipedians had in mind, and they requested that Chad and Steve immediately cease what they believed was legal transwikification;[6] however, articles could still be copied and pasted under the GFDL copyleft license and then "wookified" to fit the scheme of the Star Wars–themed wiki, making sure to place an in-universe article in past tense, or remove redundant sentences. In this aspect, it was decided to have all articles, not just those that were more trivial, lesser known, or more detailed, at the wiki.
Later articles were copied in this fashion and the originals were left alone on Wikipedia for its users to edit under its rules. Eventually Wookieepedia would develop so many articles that Wikipedia would no longer have any to copy. It should also be noted that Wookieepedia was created independently of the Wikimedia Foundation and of any events occurring on Wikipedia.
Great LucasCruft Purge
In March of 2005, perhaps unaware of the formation of the new wiki, a Wikipedian (considered by some a deletionist who wished to prove a point) began to place several Star Wars articles in the Votes for Deletion system (now Articles for Deletion) in an attempt to get these articles deleted from Wikipedia. The purge was later dubbed the "Great LucasCruft Purge" by Steven himself.[7] It was Steven's goal to save as many articles from this individual before the damage was made permanent, and would then impede Star Wars Wiki's ability to grow as it did within the first month. One such article that became a focus of this battle was Order D6-66, which became one of the first stub articles added to the new wiki via the "transwiki" process. The purge garnered the Star Wars Wiki a great deal of public attention, which gave some the erroneous impression that Wookieepedia was created because of the purge.
By year
2005
Just days after the official founding, administrative powers were given to Steven (Riffsyphon1024) by Chad (WhiteBoy). This set up the dual administrator system until the adminships of the users QuentinGeorge, Aidje, and SparqMan later in the year. The wiki, now going under the moniker of "Wookieepedia," developed a steady rate of contributions by new members from all over, and over time lost its reliance on Wikipedia. Eventually Wookieepedia became the primary name for the wiki and an official renaming took place with the creation of a new logo by Tracy Duncan.
Wookieepedian of the Month (WOTM) was first started in June 2005, with Imperialles as the first user to be recognized by the community for his contributions. As of December 2017, 127 different users have been recognized as WOTM. In April 2014 the user Cavalier One was the first to be voted WOTM for a second time.[8]
July brought the first Quotes of the Day on Wookieepedia. Though now considered minuscule in comparison to the current number of quotes now passed through four subcategories, it was a sufficient means to create a new feature on the wiki. Today, QotD/In-Universe is the most edited page of Wookieepedia.[9] Pages such as these show the significant growth of each area over the course of only a few years. In the same month, Wookieepedia's largest ever boost came when an explosion of editors hit the site, sending the wiki's article count over 10,000. Factors to this expansion could be attributed to advertising and the release of Revenge of the Sith. (See wiki growth table below.)
In September 2005, Did You Know? was experimentally created and added to the Main Page, where it has remained as an active feature since.
Consensus Track, a voting and discussion system designed to improve site-wide policies and practices, was formed onto a single page in October 2005. In the same month, Eric Przybylski of Nav-Computer.com allowed Wookieepedia to use his fan-made sector maps on certain articles. His maps have since been replaced with versions directly from canon sources.
2006
The first bot was released onto Wookieepedia on February 8. R2-D2 was designed to clean up instances of repeating words, categories, as well as clean the sandbox page. Since then, another bot named AL-BRT has made 496,374 total edits on Wookieepedia.[10]
A new Forum area dubbed the Senate Hall was constructed in March 2006 as part of Wikia's MediaWiki updates, and as a result, the Community Portal talk page no longer was the primary form of wikiwide discussion. Senate Hall was chosen as a name that would not be considered too cliché or overly used for a Star Wars name. Consensus Track was subsequently moved into the forums, and becoming its own section, used specifically for policy creation and alteration on the wiki.
2007
On February 20, 2007, the first Wookiee-Cast was posted. The podcast was parody and commentary by Thefourdotelipsis on subjects relating to Wookieepedia and Star Wars in general. It did not, however, represent the official views of the wiki. The Wookiee-Cast podcasts were released throughout 2007, but have since been on hiatus.
Also in February, the Inquisitorius was formed to handle the structure of the featured article system.
Wookieepedia's Reference desk became the new Knowledge Bank within the forums, where general questions on Star Wars not relating specifically to articles or Wookieepedia could be asked.
Over the course of the spring leading up the 30th anniversary of Star Wars, Wookieepedia held votes for the Coolest thing ever! and Lamest thing ever! with Darth Vader and SuperShadow winning respectively.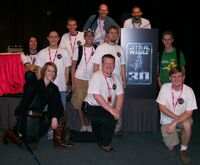 In May, at least ten Wookieepedians from across the globe attended Celebration IV to help monitor Wookieepedia's table alongside The Completely Unofficial Star Wars Encyclopedia founder Bob Vitas, advertise the wiki, and host a trivia contest named "Stump the Wookiee." In the months before the convention, admins and users came across a notice by Mary Franklin that a group could obtain a table at CIV for free. Immediately the wiki reacted and set up a page for those interested as well as other details of the event. By February, it was known that Wookieepedia won the table and final preparations were made. Some users and administrators that attended and helped man the table alongside Vitas included Riffsyphon1024, Xwing328, jSarek, LtNOWIS, Ozzel, Graestan, Taybo20, Azizlight, Adamwankenobi, and Lord Hydronium. As a result of Wookieepedia's appearance and contest at Celebration IV, it was mentioned by the official site for the first time, marking another level of awareness in the Star Wars community. In addition, the event allowed the wiki to express itself to the fans directly.
Also in May, the Votes for Deletion page was renamed to the more in-universe-sounding Trash compactor. In 2007, the wiki's Main Page underwent a major change, which allowed for exploration of the Star Wars universe within films, Expanded Universe, and in-universe categories to be hidden on a subpage with the use of Javascript. In addition, the single search icon in Wookieepedia's sidebar was upgraded in April to include rotating search icons.
2008
In late February 2008, a Facebook fan page for Wookieepedia was started by Riffsyphon1024. As of April 2014, it has over 67,000 fans. Wookieepedia began its fourth year on March 4, 2008. A new project of Wookieepedia was the interview process with established authors, artists, actors, and anyone else related to the creation of the Star Wars universe in order to gain more insight for its articles. Some of Wookieepedia's first interviews were given to authors Kevin J. Anderson and Tom Veitch and artist Christian Gossett. This project, however, was short-lived in gaining access to interviewees.
By August of 2008, the wiki had reached 60,000 articles.[11]
2009
As with many wikis over time, certain features render other ones redundant or useless. Such was the case during what was described by some Wookieepedians as the "Great List Purge" that occurred in late December 2008 and early January 2009, where many old lists created years before were simply out of date as categories had accumulated a far greater number of articles on each topic.
The start of 2009 also saw the addition of an official blog to Wookieepedia, named the Wookieepedia Newsnet. The blog began regular entries in January, with regular features summarizing monthly Featured Article output, Consensus Track results, Wookieepedian of the Month interviews, and Canon Updates. An RSS feed for the blog was added to the Main Page on April 1st, 2009, with the blog receiving an impressive 1,072 hits on that day.
2010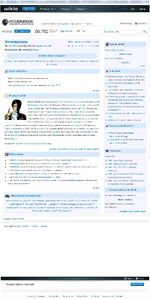 July 2010 brought forth a new classification of article, partly inspired by Wikipedia practices. Improvement of minor articles and stubs would lead to the creation of comprehensive articles, those which were complete topics, but too small to be either Good Articles or Featured Articles.
In October 2010, Wookieepedia underwent another skin change by Wikia (see right).
2011
In September 2011, an overhaul at StarWars.com resulted in a new Encyclopedia with every entry linking to a Wookieepedia article.
By November, the Senate Hall was altered to include listings for sticky threads, which would stick to the top of a separate list.
2012
Wookieepedia attended a table at Celebration VI in Orlando, Florida and was interviewed by The Dork Night Podcast.[12]
In February, the wiki surpassed 90,000 articles.
2013
On January 10, Wookieepedia surpassed 100,000 articles, with the creation of the article Jela Reneke.
2014
With Lucasfilm Ltd.'s announcement on April 25, 2014 to replace the Expanded Universe with the "Legends" brand, members of Wookieepedia subsequently discussed and voted to retain all information within Star Wars media,[13] but split applicable articles into their respective canonical parts—Canon and Legends—with the use of tabs.[14] Editors on the site began creating new articles reflecting information only relevant to the new system of canon and by October 21 had created over 1000 in-universe canon articles.
2015
"Congratulations to Wookieepedia contributors and readers alike
You've made my work so much easier and so much harder."
―Leland Chee, on Wookieepedia's 10th year in existence
On March 4, 2015, Wookieepedia celebrated the start of its 10th year. Several individuals with ties to Star Wars media, including Leland Chee and Jason Fry, congratulated the site on its birthday.[15]
Wookieepedia was present at Celebration Anaheim (April 16–April 19), where the wiki shared table space with Wikia and hosted a birthday party with a Wookieepedia cake. Afterward, Wikia hosted the Qwizards panel, which allowed fans to compete against long-time Wookieepedians jSarek, Cavalier One, and Jorrel Fraajic.
On the heels of the 2014 decision to institute a tabbed system for canon and Legends content, Wookieepedia editors decided in December 2015 to begin presenting canon content on primary pages, such that visitors arriving at pages such as "Luke Skywalker" would find content relevant to the new canon continuity rather than Legends material. The new system was instituted shortly before the premiere of the film Star Wars: Episode VII The Force Awakens, assuring that those arriving in search of details of classic elements appearing in the new films would easily find the relevant information.[16][17]
Multi-year phenomena
Over the course of the wiki's history, several attempts were made to curb fanon on user pages or delete it altogether. Most votes resulted in no consensus and the issue was pushed back until a few months later when it became known again. A major influence became the creation of the Star Wars Fanon Wiki, which was accepting of all forms of fanon written by its users. Most users to that wiki happened to be Wookieepedians as well, however not in the form of long-staying administrators, but rather those who had been told not to add fanon to Wookieepedia. This shift of population was seen as general amounts of fanon reduced, but there were still users that went ahead with filling in their user pages and then not editing any or even a few articles. This however did not limit the number of true contributors to Wookieepedia.
Each year since 2005, a contest for Miss Star Wars and Mister Star Wars has been held in December, with voting up to the new year. The winners, either male or female characters in the galaxy, retain their crowns until the next vote and can continue to win as long as they receive enough support.
From 2005 to 2008, several Wookieepedians contributed to Star Wars canon via the What's The Story? feature of StarWars.com, including John Hazlett, Tim Veekhoven, Aidan Hennessy, Nathan O'Keefe, Gregory Walker, Kyle Jewhurst, Timothy S. Maddocks, and Arthur Papadam.
Statistics
See also: Special:Statistics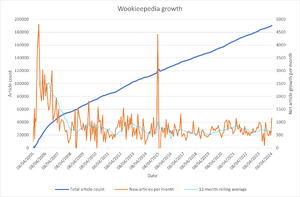 There are 167,927 articles on Wookieepedia, and of these, 947 are considered Featured articles (0.564% of the total), 2,122 Good articles (1.264%), and 3,085 Comprehensive articles (1.837%). There are 774 active users.[18]
As of August 2020, according to Alexa Internet, Fandom's three-month global Alexa traffic rank is 97.[19] In April 2014, 1.84% of all Fandom visitors accessed the Wookieepedia subdomain.[20] It is the seventh largest Fandom-hosted wiki in terms of article count.[21]
Growth
Wookieepedia has grown quickly from its start in March 2005 to present to reach 167,927 articles. One relatively large spike in contributions occurred in August 2005, after the release of Star Wars: Episode III Revenge of the Sith.[9] Wookieepedia crossed the 50,000 article threshold on June 26, 2007,[22] the 75,000 article threshold on April 1, 2010[23] the 100,000 article threshold on January 10, 2013,[24] and the 150,000 article threshold on July 6, 2019.
Article milestones
WookieeProjects
Since 2006, Wookieepedia has been host to many projects which have improved related groups of articles, either by subject or by source, to Featured Article, Good Article, and Comprehensive Article status. Barn Burners, wiki-wide variations of these projects, were started in 2011 in the Senate Hall to flash improve topics.
Popular acclaim
"Wookieepedia is a fabulous resource. Love it and use it a lot. But it's always a starting pt for further verification, not an endpoint."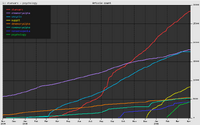 2005–2008
Wookieepedia was mentioned in Time magazine on May 29, 2005 as one of Wikia's largest wikis; only Star Trek

'

s Memory Alpha was larger, though as of November 12, 2005, Wookieepedia has exceeded Memory Alpha in legitimate number of articles. However shortly thereafter, Wookieepedia was overtaken by World of Warcraft's WoWwiki.
On September 26, 2005, Jimmy Wales, the founder of Wikipedia, mentioned Wookieepedia in an interview on C-SPAN.
Abel G. Peña mentioned Wookieepedia in his October 11, 2005 blog, calling it a "staggering enterprise."[27]
Nathan Butler mentioned and gave his support to the wiki in an episode of his ChronoRadio internet radio show.
SciFi.com selected Wookieepedia as its Sci Fi Site of the Week on November 28, 2005.[28]
TheForce.net acknowledged Wookieepedia for the first time on December 2, 2005, comparing it with The Completely Unofficial Star Wars Encyclopedia.[29]
On March 27, 2006, Wookieepedia was mentioned in the official Wikia press release covering the relaunch of Wikicities under the new name Wikia.
Daniel Wallace puts Wookieepedia links in his blog.[30] He also admitted being a "giant fan of Wookieepedia."[31]
John Jackson Miller mentioned Wookieepedia in behind-the-scenes comments for Knights of the Old Republic 6: Commencement, Part 6 as the source of the conjectural name "Padawan Massacre of Taris," which was later canonized in issue 11 of that same series.[32] Also, he dedicated a blog post called "On Wikis and Wookiees" to it.[33]
On September 4, 2006, Wookieepedia was mentioned in the New York Times.[34]
In Matt and Ben Loewen's audio commentary for Star Wars: Episode IV A New Hope, done as an episode of their fan audio show Star Wars FM, they cite Wookieepedia as where they looked for information on the retconned appearance of the 501st in the film. In reference to the site's name, Matt quips, "I love that name!"
Pablo Hidalgo mentioned Wookieepedia in one of his blog entries. He stated "…there's a variety of reasons I can't go into that playground as someone on the official side of things. I try to avoid it, though from what I've seen it's pretty darn impressive."[35]
In an interview with comedian C.C. Banana regarding the 30th anniversary of Star Wars, Peter Mayhew was asked if he contributed to the site, and replied that while he hadn't, "I do click onto it every now and again."[36]
In an NBC blog, Aaron Bleyaert wrote about Wookieepedia's quick response to changing Motti's name to the disputed but canon name Conan Antonio Motti. In the blog, released a day after George Lucas's statement, he praised Wookieepedia for their quickness in incorporating it into the Star Wars mythology.[37]
On May 4, 2007, Variety.com wrote an article on Wookieepedia.[38] The article was later included on Hyperspace[39] and the starwars.com Homing Beacon #187—making this the first time the official site has recognized the existence of Wookieepedia.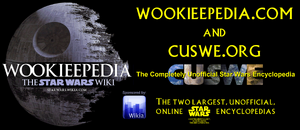 2009–2013
The Clone Wars second-season episode Cat and Mouse, which broadcast on March 26, 2010, used parts of a Wookieepedia article, transliterated into Aurebesh, as computer text.
In an article published on May 22, 2010, writer Robert Chestney cited Wookieepedia as one of the resources he used to research his comic series, Star Wars: The Old Republic, Threat of Peace.[64]
In October 2010, author Sean Williams stated in an interview conducted by Star Wars Action News that he uses Wookieepedia as a resource for finding obscure alien species with which to populate his Star Wars stories.[65]
On an episode of the Australian game show Good News Week, aired April 11, 2011, English comedian Simon Pegg correctly answered "Wookieepedia" when asked "What is the name of the comprehensive Star Wars database that can be edited by members of the public?"[66]
On June 6, 2011, Wookieepedia was mentioned in an article entitled "The weirdest stories from the Star Wars Expanded Universe," on Gawker Media's io9 (now Gizmodo).[67]
In an interview published in Star Wars Insider 127, Timothy Zahn acknowledged Wookieepedia as one of the resources he uses to keep up with the Expanded Universe.[68]
On September 13, 2011, StarWars.com revamped their website, and created a new "Encyclopedia" to replace the Databank. The new entries linked to Wookieepedia.[69]
In an interview with Easy Crafts Wiki in September 2011, Bonnie Burton noted that she loves Wookieepedia "for all the weird facts and extensive files on every single Star Wars thing you can imagine."[70]
Author James Luceno cited Wookieepedia as a resource he used while researching the prehistory of Star Wars: Episode I The Phantom Menace for his novel Darth Plagueis.[71]
On March 2, 2012, Wookieepedia was cited in a Cracked article on common misconceptions and misquotations in pop culture history.[72]
Wookieepedia was mentioned in the acknowledgements of Jason Fry's The Essential Guide to Warfare. In a later interview in April 2012, Jason Fry noted the wiki as being a "fabulous resource" but "not an endpoint."[73]
On April 25, 2012, io9's article "10 Alien Species from Star Wars Who Became Jedi Knights" used Wookieepedia as a source.[74]
On his blog, the comic artist Zack Giallongo admitted using Wookieepedia while researching the various Ewok characters' appearance in all the movies, books, toys, and comics. Giallongo was later hired by Dark Horse Comics to produce the series Star Wars: Ewoks—Shadows of Endor.[75]
Wookieepedia was interviewed at Celebration VI by The Dork Night Podcast.[12]
Pablo Hidalgo thanks the many Wookieepedians in the Acknowledgments section of The Essential Reader's Companion for "undertaking their own research of this universe."[76]
On October 25, 2012, Australian comedy TV show The Unbelievable Truth, in a section based around the lightsaber, had Wookieepedia as one of the "truths," and claimed that it had over 90,000 pages.[77]
On December 19, 2012, Gizmodo's article "Are These the First Leaked Star Wars Episode VII Plot Details?" references Wookieepedia's Yavin 4 article in discussing possible plot points for the sequel trilogy.[78]
On January 10, 2013, Leland Chee, maintainer of the Holocron continuity database, congratulated Wookieepedia on its 100,000th article milestone.[79]
On March 3, 2013, Wookieepedia's article on "Force meld" was referred to by Lucasfilm's Director of Communications Lynne Hale in response to confusion over the apparent misuse of the term "Jedi Mind Meld" by United States President Barack Obama during a news conference.[80]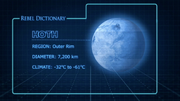 2014–Present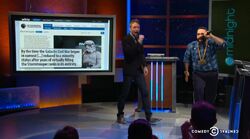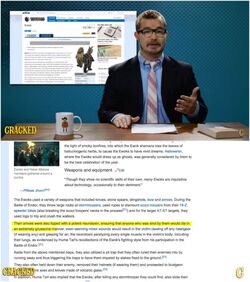 Criticism
Like all wikis, Wookieepedia has been criticized for common wiki flaws such as pushing a certain point of view and for its easily editable nature, leading to frequent vandalism. A question on the TFN Boards in 2008 asked whether the wiki continued to be reliable, to which jSarek replied, "To a degree. We generally keep the nonsense out, but we're not perfect, and sometimes something slips through."[122] Vandalism can easily distort canonical information if not checked; however, with Wookieepedia being one of the most active wikis, vandalism going unnoticed is rare. FANDOM released an apology to Newsweek after racist edits were noticed by fans visiting Rose Tico's page.[123]
Influences on canon
In other languages
In addition to Wookieepedia, several other Star Wars wikis exist in multiple languages. Though these different language encyclopedias were started by, and are currently run by different people, many are located at the fandom.com subdomain, meaning that membership at any one version is extended to the others as well.
Spin-offs
Several wikis have been spawned from Wookieepedia. These include the Star Wars Fanon Wiki, the Star Wars Games Wiki, the LEGO Star Wars Wiki, the Star Wars Fanpedia, the Star Wars Galaxies Wiki, the Clone Wars Wiki, the Clone Wars Adventures Wiki, the Star Wars: The Old Republic Wiki, and the Star Wars Rebels Wiki.
In addition, the site wookieepedia.org appears to be written entirely in Shyriiwook.
Notes and references
External links
Community content is available under
CC-BY-SA
unless otherwise noted.