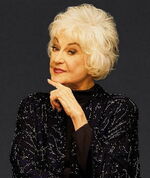 Bea Arthur was an American actress known for her deep voice and sharp delivery of comedic lines who gained fame acting on Broadway, in television, and in films throughout her long career. Born Bernice Frenkel in 1922, Arthur changed her name early in her life and began acting soon after. After graduating from the Dramatic Workshop acting school in New York City, she formed an Off Broadway acting troupe and earned critical praise for performing comic roles, eventually winning a Tony Award for her role in the musical Mame. A guest appearance on the television sitcom All in the Family earned her a show of her own, Maude, which ran for six successful seasons.
In 1978, Arthur was invited to appear on The Star Wars Holiday Special, a Christmas-themed variety show set in the Star Wars universe that was attempting to capitalize off of the success of the wildly popular film of the previous year, Star Wars. Arthur portrayed Ackmena, a gruff bartender at the Mos Eisley Cantina whose rowdy patrons refused to obey a planet-wide curfew imposed by the Galactic Empire. Ackmena resorted to singing the song "Goodnight, But Not Goodbye," which caused them to waltz out the door.
Arthur found further success on television when she played the pragmatic Dorothy Zbornak on the 1980s sitcom The Golden Girls, a very popular show throughout its seven year run. In the 1990s and 2000s, she guest-starred on several television shows and put together a one-woman show that she brought to Broadway. After falling ill from cancer, Arthur passed away in her home in 2009. She was remembered fondly by friends, family, and the Broadway community. (Read more…)
Recently featured: Hugo Bartyn – Sindra – The Written Word: A Brief Introduction to the Writing Systems of Galactic Basic
Community content is available under
CC-BY-SA
unless otherwise noted.