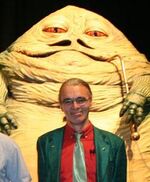 Toby Philpott is an English puppeteer best known for his work in motion picture animatronics during the 1980s in such films as The Dark Crystal and Return of the Jedi. Born into a family of entertainers, Philpott dropped out of school and traveled the world during the 1960s, squatting in various locations and surviving off money he earned from his work as a street performer, which included juggling, fire eating, magic shows, clowning, and acrobatics. He began his film career after Jim Henson personally selected Philpott to work on the groundbreaking 1982 fantasy film The Dark Crystal, in which he worked side-by-side with Henson.
The next year, Philpott was approached to serve as one of the puppeteers controlling Jabba Desilijic Tiure in Return of the Jedi. Philpott controlled the left arm, head, tongue, and body of the giant Hutt puppet. Philpott would lend his puppetry skills to other such movies as The Company of Wolves (1984), Labyrinth (1986), Little Shop of Horrors (1986) and Who Framed Roger Rabbit (1988) before leaving the film industry. He currently works as a library technician at the Cardiff Central Library in Cardiff, Wales. Reflecting upon his movie career, Philpott describes himself as a "street juggler that got lucky."
Recently featured: Yomin Carr – Unidentified Imperial scout – Rokko
Community content is available under
CC-BY-SA
unless otherwise noted.