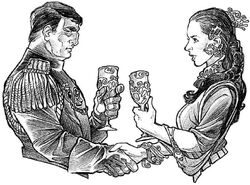 This page is designed to house interviews with Star Wars VIPs and interview requests conducted by members of Wookieepedia for the purposes of bettering the site. Please read the policies below before submitting an interview request. All interviews located on this page are considered citable for the purposes of Wookieepedia articles, though they are intrinsically non-canon and not necessarily from a neutral point of view.
To submit an interview request, please create a new interview request in the section below. All information pertaining to a specific interview should be contained in a single interview page.
Interview policies
Failure to follow these policies can and will result in the deletion of interview pages and/or being blocked from editing Wookieepedia.
Follow the existing structure for submitting and conducting an interview; any interview requests and interviews that do not adhere to this structure will be discarded and the nominator may be banned if it is a repeat offense, under the disruption clause.
All the standard rules and decorum of Wookieepedia apply to the interview pages; personal attacks, spamming, trolling, or disruption of any interview page will not be tolerated; neither will inappropriate questions or harassment of the VIPs. It is up to the discretion of the administration to decide what constitutes any of the above offenses and to mete out disciplinary action as needed.
Do not change a closed interview page.
If an interview request or question that you proposed is rejected, do not immediately re-create it. In fact, don't re-create it at all.
Do not submit multiple interviews to a given VIP in a short period of time (think months). It's rude, unprofessional, and an unfair demand on their time.
If a VIP declines to be interviewed, do not harass them repeatedly. Let it go.
For the purposes of verifiability, members of the administration should be included in parts of the interview that involve direct contact with the VIP—whether that be carbon-copying their e-mail address in an interview request/interview e-mail or ensuring that they are present in a moderated IRC channel during the interview. At least one administrator should be involved; having two or three is highly recommended.
Administrators may semi-protect any and all interview pages at their leisure and are encouraged to do so at the first sign of trouble.
No more than three interviews may be active at any one time. The administration will use their discretion and eliminate any interview requests at will that do not meet Wookieepedia standards or exceed this limit.
The VIP who is to be interviewed must have an article that at the bare minimum contains a biography section (one solid paragraph) and a complete listing of their Star Wars contributions. This link is provided as the acceptable minimum. [1]
Please respect the boundaries that the VIPs have, in terms of their obligations and responsibilities to LFL, and not try to solicit information they are not authorized to release or infringe upon their personal privacy.
Interview structure
Interview pages that fail to follow this structure can and will be deleted on sight.
A request to interview a given VIP is submitted on a new interview page. Repeat interviews are not allowed, in general. (Note that Wookieepedia:Consensus is applied here)

Interested parties discuss it; no approval: request dies.
Interested parties discuss it; community approval: Move to 2.

Submit an interview request (NOT the questions) to the VIP. (cc at least one sysop). This should probably include channel times/location for IRC interviews. The interview request should ask the VIP to state anything they don't wished to be asked about, their preferred media for interview (e-mail, IRC), and should state that they're not obliged to answer every question if they don't want to and that we won't distribute any information that they ask us not to (like e-mail addresses, etc).

If VIP declines to be interviewed, request dies.
If VIP doesn't reply, another (1) more request should be sent a week later, and then it should be laid to rest after that. Don't just try once and forget about it, but don't pester them incessantly.
If VIP is willing to be interviewed, move on to the questions segment.

Questions are formulated and tweaked, questions are added based on community discussion. If a loose consensus is in favor of removing a question, it should be removed. If an administrator spots an inappropriate question (includes topics the VIP has asked to not discuss), the question will be removed immediately and should not be re-created. Unprofessional questions will be removed as well, at the discretion of the administration.

This process should go on for about a week; a few days at least.

Send questions to the VIP via e-mail (cc at least one admin) or arrange for IRC meeting and again, at least 1 admin should be present. Use of questions that were not on the community-approved list will result in stern consequences; let's not go there.
When reply arrives or after the interview is concluded, it'll be placed on our page and can then be used as citable material. The page should be locked to prevent any tampering with the interviews. All completed and successful interviews should be categorized in Category:Articles used for reference purposes.
Interviews
View recent changes for interviews
All interview requests should be kept here. To see old requests, please check the archives.
| Topic | Last edit | Last author |
| --- | --- | --- |
| Interview/Jeffrey Brown | 23:59, 2 June 2021 | Rsand 30 |
| Interviews | 16:05, 28 February 2021 | TOM-E Macaron.ii |
| Interview/Abel G. Peña | 05:16, 4 October 2018 | Imperators II |
| Interview/Jason Fry | 05:13, 4 October 2018 | Imperators II |
| Interview/John Hazlett (sample) | 03:06, 5 August 2018 | AL-BRT |
| Interview/Pablo Hidalgo | 04:20, 4 June 2018 | AL-BRT |
| Interview/Arve Juritzen | 04:20, 4 June 2018 | AL-BRT |
| Interview/Cavan Scott | 12:41, 28 April 2017 | Lewisr |
| Interview/Jonathan Green | 02:08, 8 December 2014 | Toprawa and Ralltiir |
| Interview/Aaron Allston | 07:58, 28 April 2014 | RoboCade |
| Interview/Edward M. Erdelac | 00:18, 18 October 2012 | Master Jonathan |
| Interview/Christian Gossett | 00:18, 18 October 2012 | Master Jonathan |
| Interview/John Williams | 19:56, 6 December 2010 | Master Fredcerique |
| Interview/Janine Johnston | 12:38, 10 May 2009 | Q9-X2 |
| Interview/Dario Carrasco, Jr. | 03:00, 8 May 2009 | Darth Culator |
| Interview/Francis Tsai | 14:19, 21 February 2009 | Pranay Sobusk |
| Interview/Kevin J. Anderson | 20:17, 1 December 2008 | Greyman |
| Interview/Tom Veitch | 03:01, 18 November 2008 | Greyman |