Miss Star Wars 2009 is Wookieepedia's tribute to the finest ladies of Star Wars. Feel free to vote or add more nominees! Remember to update both the gallery and the vote section when nominating new candidates. Note also that both gallery and list of candidates are alphabetical by first name.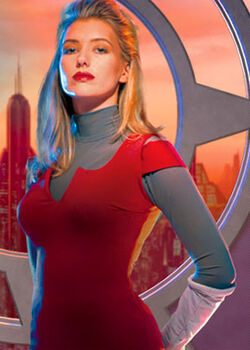 Just remember the rules:
Only registered Wookieepedians are allowed to vote.
Fake, anonymous, and sockpuppet votes will be removed.
Please indicate your vote using the # sign and sign with ~~~~
Signature policy violations will be removed.
Fictional characters only; no real people.
Characters may only be nominated if they have been visually depicted in canon, uniquely and identifiably.
No characters may be nominated who are known or can reasonably be assumed to be under 18 standard years old at the time of their last appearance in canon. This does not apply to inorganics, non-sentients, or subjects of accelerated maturation.
To save time and effort, all eligible nominees from the previous four contests are pre-nominated this year. Feel free to add new ones if they qualify under the current rules. Administrators will remove any ineligible candidates.
So vote for as many gals as you like! (And don't forget the guys!)
Nominees/VotesEdit
Jedi--Jj7362 18:55, December 22, 2009 (UTC)
--Darth Revanon 06:59, December 24, 2009 (UTC)
It's Boba Fett's daughter. DarthImperial 04:35, December 24, 2009 (UTC)
Seconded. SithStalkerO66 06:28, December 28, 2009 (UTC)
She's got to have more votes...come on guys! --Mando1300 19:16, December 31, 2009 (UTC)
Pranay Sobusk ~ Talk 13:16, December 23, 2009 (UTC)
The Dark Woman--Jj7362 19:22, December 22, 2009 (UTC)
Pranay Sobusk ~ Talk 13:16, December 23, 2009 (UTC)
They are both hot, twi'lek and twins. How can that not be good?--Jawaman No, I did NOT steal your droid! 15:04, December 23, 2009 (UTC)
--CT-1987 14:11, December 22, 2009 (UTC)
Pranay Sobusk ~ Talk 13:16, December 23, 2009 (UTC)
The pictures don't do her justice. --User:JediOrion 21:57, December 22, 2009 (UTC)
--Jj7362 18:58, December 22, 2009 (UTC)
JethLordMaster (Xia Order) 21:09, December 22, 2009 (UTC)
Loved her in the MedStar novels. It gave a better understanding of her character.Crumb 00:30, December 23, 2009 (UTC)
Te Mirdala Mand'alor 01:27, December 23, 2009 (UTC)
—Master Jonathan(Jedi Council Chambers) 02:52, December 23, 2009 (UTC)
--Jawaman No, I did NOT steal your droid! 14:47, December 23, 2009 (UTC)
Barriss! Leialover229 20:39, December 23, 2009 (UTC)
--Darth Revanon 07:00, December 24, 2009 (UTC)
--Algernon'sMuffins 13:07, December 24, 2009 (UTC)
Pronounce her name right, TCW! SithStalkerO66 06:28, December 28, 2009 (UTC)
Te je'karta mand'alor 12:33, December 30, 2009
Axx1000 09:56, December 31, 2009 (UTC)
ZEM talk to me! 10:15, December 31, 2009 (UTC)
Just badass :P Obi-Have 16:03, December 22, 2009 (UTC)
It's the accent. Havac 20:10, December 22, 2009 (UTC)
JethLordMaster (Xia Order) 21:09, December 22, 2009 (UTC)
Te Mirdala Mand'alor 01:27, December 23, 2009 (UTC)
Hottest chick in KotoR.--Jawaman No, I did NOT steal your droid! 14:48, December 23, 2009 (UTC)
Bastila's one of the ones that I always have to vote for. Leialover229 20:39, December 23, 2009 (UTC)
Jedi Kasra (comlink) 04:24, December 24, 2009 (UTC)
You'd have to be crazy not to vote for her. Ruthless Xero 20:32, December 24, 2009 (UTC)
SoresuMakashi(Everything I tell you is a lie) 05:12, December 25, 2009 (UTC)
Green Tentacle (Talk) 12:42, December 26, 2009 (UTC)
Mandoad1212 09:15, December 28, 2009 (UTC)
I need a name (Complain here) 16:45, December 31, 2009 (UTC)
Babe. Havac 20:10, December 22, 2009 (UTC)
Why not? Tinwe 18:15, December 31, 2009 (UTC)
I owe it to Han.--Jj7362 18:59, December 22, 2009 (UTC)
Easily the sexiest video game character EVER. --JediOrion 22:09, December 22, 2009 (UTC)
JethLordMaster (Xia Order) 21:10, December 22, 2009 (UTC)
Random fanboy:...Nice underwear... SithStalkerO66 06:28, December 28, 2009 (UTC)
--Jj7362 18:59, December 22, 2009 (UTC)
--Darth Revanon 20:52, December 22, 2009 (UTC)
Pranay Sobusk ~ Talk 13:16, December 23, 2009 (UTC)
Pranay Sobusk ~ Talk 13:16, December 23, 2009 (UTC)
--CT-1987 14:20, December 22, 2009 (UTC)
Per my FA on Jedipedia. Tyber J. Kenobi's Droid 14:35, December 22, 2009 (UTC)
Taral, Dark Lord of the Sith -Just shy, not antisocial: You can talk to me!- 15:05, December 22, 2009 (UTC)
Maxattac 15:58, December 22, 2009 (UTC)
Zeltrons...can't resist them...Revan Malak 17:47, December 22, 2009 (UTC)
Pranay Sobusk ~ Talk 13:16, December 23, 2009 (UTC)
Avengers 14:44, December 23, 2009 (UTC)
Leialover229 20:39, December 23, 2009 (UTC)
— Fiolli {Alpheridies University ComNet} 23:12, December 24, 2009 (UTC)
Pranay Sobusk ~ Talk 13:16, December 23, 2009 (UTC)
Leialover229 20:39, December 23, 2009 (UTC)
PointGiven (But...it was so artistically done...) 03:03, December 24, 2009 (UTC)
--Darth Revanon 07:01, December 24, 2009 (UTC)
— Fiolli {Alpheridies University ComNet} 23:12, December 24, 2009 (UTC)
SoresuMakashi(Everything I tell you is the truth) 05:12, December 25, 2009 (UTC)
ToRsO bOy 15:35, December 27, 2009 (UTC)
—Master Jonathan(Jedi Council Chambers) 02:52, December 23, 2009 (UTC)
Te je'karta mand'alor 12:36, December 30, 2009
Go Phobos!--Bonslywizard 15:03, December 22, 2009 (UTC)
--CT-1987 14:19, December 22, 2009 (UTC)
The new Dark Lord of the Sith has my vote!--Darth Revanon 17:45, December 22, 2009 (UTC)
--TallJediKnight(talk) 19:29, December 22, 2009 (UTC)
Jonjedigrandmaster (Jedi Beacon) 21:53, December 22, 2009 (UTC)
--Vandar Tokare42 23:20, December 22, 2009 (UTC)
Darth Zannah! You have my vote --Osirisxx 20:11 December 2, 2009
Zannah is beautiful JM2008 14:56, December 23, 2009 (UTC)JM2008
Leialover229 20:39, December 23, 2009 (UTC)
Finally! A female Dark Lord of the Sith whose not hideous!--LastJedi1515 (talk) 22:24, December 23, 2009 (UTC)
SoresuMakashi(Everything I tell you is a lie) 05:12, December 25, 2009 (UTC)
I like Sith--ArchemporerRamis 05:36, December 29, 2009 (UTC)
wouldn't like to get on the wrong side of her! scary!Te je'karta mand'alor 12:40, December 30, 2009
Darth Trayus(Trayus Academy) 04:15, December 31, 2009 (UTC)
I need a name (Complain here) 16:45, December 31, 2009 (UTC)
Nice…uniform. Green Tentacle (Talk) 14:18, December 22, 2009 (UTC)
So (Mary) Sue me. Dangerdan97 18:19, December 22, 2009 (UTC)
Pranay Sobusk ~ Talk 13:16, December 23, 2009 (UTC)
I need a name (Complain here) 16:45, December 31, 2009 (UTC)
Clearly the sexiest. And just think of what that mouth could do. Menkooroo 01:37, December 23, 2009 (UTC)
I'd like to be wrapped in those coils. IFYLOFD (You will pay the price for your lack of vision!) 04:38, December 23, 2009 (UTC)
Being with her, I be gone for sure. ~ SavageBob 06:27, December 23, 2009 (UTC)
Pranay Sobusk ~ Talk 13:16, December 23, 2009 (UTC)
Mmmmmmm... Leialover229 20:39, December 23, 2009 (UTC)
I need a name (Complain here) 16:45, December 31, 2009 (UTC)
Pranay Sobusk ~ Talk 13:16, December 23, 2009 (UTC)
Here's to her insignificant appearance.--Bonslywizard 23:02, December 23, 2009 (UTC)
Let's make things a bit more interesting.--Jj7362 19:21, December 22, 2009 (UTC)
— Fiolli {Alpheridies University ComNet} 23:12, December 24, 2009 (UTC)
Pranay Sobusk ~ Talk 13:16, December 23, 2009 (UTC)
Star Wars needs more elves. --Jesus Freak 20:00, December 24, 2009 (UTC)
— Fiolli {Alpheridies University ComNet} 23:12, December 24, 2009 (UTC)
ToRsO bOy 15:35, December 27, 2009 (UTC)
Te je'karta mand'alor 12:42, December 30, 2009
I need a name (Complain here) 16:45, December 31, 2009 (UTC)
Pranay Sobusk ~ Talk 13:16, December 23, 2009 (UTC)
What? Nobody likes Bakurans? — Fiolli {Alpheridies University ComNet} 23:12, December 24, 2009 (UTC)
She sacrificed her life...so honorable.--Mando1300 19:18, December 31, 2009 (UTC)
She puts the "her" in "hermaphrodite"! Menkooroo 01:36, December 23, 2009 (UTC)
Pranay Sobusk ~ Talk 13:16, December 23, 2009 (UTC)
I need a name (Complain here) 16:45, December 31, 2009 (UTC)
--CT-1987 14:14, December 22, 2009 (UTC)
Curses, beat me to it. :P Green Tentacle (Talk) 14:15, December 22, 2009 (UTC)
I can't stand it. :P Tyber J. Kenobi's Droid 14:36, December 22, 2009 (UTC)
QuiGonJinn (Talk) 17:58, December 22, 2009 (UTC)
Always Enochf 18:55, December 22, 2009 (UTC)
Darth PandoraTell me more... 22:56, December 22, 2009 (UTC)
Damn these gynoids. :-)--Loneshark1138 Comlink) 06:40, December 23, 2009 (UTC)
Pranay Sobusk ~ Talk 13:16, December 23, 2009 (UTC)
Giggity! All right.--Jawaman No, I did NOT steal your droid! 14:49, December 23, 2009 (UTC)
Guri, cause she's hot. User:Thrallgor
Pranay Sobusk ~ Talk 13:16, December 23, 2009 (UTC)
How Could I not vote for her. --Loneshark1138 18:02, December 22, 2009 (UTC)
I need a name (Complain here) 16:45, December 31, 2009 (UTC)
Havac 20:10, December 22, 2009 (UTC)
Pranay Sobusk ~ Talk 13:16, December 23, 2009 (UTC)
Sign me up ToRsO bOy 15:35, December 27, 2009 (UTC)
Mandoad1212 09:12, December 28, 2009 (UTC)
About time she go recognized for something. --Hobbie 18:14, December 22, 2009 (UTC)
Jarael FTW! Tyber J. Kenobi's Droid 14:30, December 22, 2009 (UTC)
Couldn't have put it better. Green Tentacle (Talk) 14:34, December 22, 2009 (UTC)
TEH MU 17:15, December 22, 2009 (UTC)
I'm a sucker for offshots... Revan Malak 17:47, December 22, 2009 (UTC)
Supporting my girl. --Redemption(Talk) 17:49, December 22, 2009 (UTC)
Juh-RAYL or JAIR-ee-uhl, she's gotta win Enochf 18:56, December 22, 2009 (UTC)
You and Zayne are a package deal(Gryph is just a bonus).--Jj7362 19:02, December 22, 2009 (UTC)
Go Jarael! Jedisniper130 19:26, December 22, 2009 (UTC)
Even if she is a filthy alien. Havac 20:10, December 22, 2009 (UTC)
Yes. SWMasterObi 00:34, December 23, 2009 (UTC)
She is clearly a combination of the hottest traits of two different species --ChancellorValorum 01:12, December 23, 2009 (UTC)
Te Mirdala Mand'alor 01:29, December 23, 2009 (UTC)
I'm not sure who Jarael is, but she's hot, so...--Bonslywizard 03:35, December 23, 2009 (UTC)
Jarael is awesome! - lu-xun 14:13, December 23, 2009 (UTC)
Avengers 14:45, December 23, 2009 (UTC)
Oh, Jarael... Leialover229 20:39, December 23, 2009 (UTC)
I suppose this is the only way I can vote for Captain Brackel. Arrr... Dangerdan97 21:33, December 23, 2009 (UTC)
Zayne has good taste PointGiven (But...it was so artistically done...) 03:03, December 24, 2009 (UTC)
After reading KotOR #48, yeah, she deserves this. This would also be a fine way to send off the comic series. Plus, she's hot. :)--Jedi Kasra (comlink) 04:14, December 24, 2009 (UTC)
— Fiolli {Alpheridies University ComNet} 23:12, December 24, 2009 (UTC)
SoresuMakashi(Everything I tell you is a lie) 05:12, December 25, 2009 (UTC)
I haven't read an issue of KOTOR since May. Damn I miss it. Menkooroo 17:19, December 25, 2009 (UTC)
Maxattac 11:02, December 30, 2009 (UTC)
Arkanian offshoot rulez!--Dionne Jinn (User talk:Dionne Jinn 22:34, December 31, 2009 (UTC)nn|Something to say?]]) 11:32, December 30, 2009 (UTC)
No doubt Jarael is my choice Te Shukalaryc Mand'alor
--Honestly never heard of her before now, but she's pretty good lookin.--CT-1987 20:55, December 30, 2009 (UTC)
I need a name (Complain here) 16:45, December 31, 2009 (UTC)
Tinwe 18:16, December 31, 2009 (UTC)
--Loneshark1138 (Comlink) 17:33, December 31, 2009 (UTC)
--Jarael is totally hot! JM2008 23:00, December 31, 2009 (UTC)JM2008
I've got a thing for EU chracters. She's the best looking female with an amazing in-universe history. --Darth shohet 02:44, January 1, 2010 (UTC)
Mandoad1212 10:50, January 1, 2010 (UTC)
Now with extra face. Green Tentacle (Talk) 14:21, December 22, 2009 (UTC)
Ha, I thought she was pretty before I knew what she looked like. Dangerdan97 18:20, December 22, 2009 (UTC)
She's got a face! Enochf 18:57, December 22, 2009 (UTC)
—Master Jonathan(Jedi Council Chambers) 02:52, December 23, 2009 (UTC)
Pranay Sobusk ~ Talk 13:16, December 23, 2009 (UTC)
Finally she has a face, very beautiful :) --AbigailAbernathy 03:06, December 24, 2009 (UTC)
— Fiolli {Alpheridies University ComNet} 23:12, December 24, 2009 (UTC)
I need a name (Complain here) 16:45, December 31, 2009 (UTC)
I need a name (Complain here) 16:45, December 31, 2009 (UTC)
Avengers 15:01, December 23, 2009 (UTC)
Hottest chick in TFU together with Maris Brood. Jawaman No, I did NOT steal your droid! 17:14, December 22, 2009 (UTC)
Boring conversation anyway--Jj7362 19:05, December 22, 2009 (UTC)
Almost made up for the rest of the game. Green Tentacle (Talk) 21:58, December 22, 2009 (UTC)
--Bonslywizard 23:19, December 22, 2009 (UTC)
—Master Jonathan(Jedi Council Chambers) 02:52, December 23, 2009 (UTC)
--Darth Revanon 05:51, December 23, 2009 (UTC)
Pranay Sobusk ~ Talk 13:16, December 23, 2009 (UTC)
Avengers 15:02, December 23, 2009 (UTC)
--Master Zervonn TALK 17:09, December 23, 2009 (UTC)
Gotta love Juno. Leialover229 20:39, December 23, 2009 (UTC)
— Fiolli {Alpheridies University ComNet} 23:12, December 24, 2009 (UTC)
SithStalkerO66 06:28, December 28, 2009 (UTC)
Mandoad1212 09:12, December 28, 2009 (UTC)
I need a name (Complain here) 16:45, December 31, 2009 (UTC)
Guess I'm a leg man. ~ SavageBob 06:27, December 23, 2009 (UTC)
Hello, freckles! Dangerdan97 19:48, December 22, 2009 (UTC)
Pranay Sobusk ~ Talk 13:16, December 23, 2009 (UTC)
The hottest lolita in star wars! darth htawhsa 10:44, December 31, 2009 (UTC)
Pranay Sobusk ~ Talk 13:16, December 23, 2009 (UTC)
ToRsO bOy 15:35, December 27, 2009 (UTC)
I need a name (Complain here) 16:45, December 31, 2009 (UTC)
Hey, she was a looker back in the day. Havac 20:10, December 22, 2009 (UTC)
I need a name (Complain here) 16:45, December 31, 2009 (UTC)
Call it... a whim? Dangerdan97 18:21, December 22, 2009 (UTC)
I need a name (Complain here) 16:45, December 31, 2009 (UTC)
Intergalactic skank, yay! Well, OK, this is kinda an indirect vote for Mission Vao, but oh well Enochf 18:59, December 22, 2009 (UTC)
Avengers 15:00, December 23, 2009 (UTC)
— Fiolli {Alpheridies University ComNet} 23:12, December 24, 2009 (UTC)
JMAS Hey, it's me! 14:27, December 22, 2009 (UTC)
--Master Zervonn TALK 14:36, December 22, 2009 (UTC)
--Loneshark1138Comlink 10:43, December 22, 2009 (UTC)
Sean Red 16:19, December 22, 2009 (UTC)
Mara is forever! Toughest and most interesting character there is! Revan Malak 17:25, December 22, 2009 (UTC)
--Tinyimp 17:08, December 22, 2009 (UTC)
Chack Jadson (Talk) 18:17, December 22, 2009 (UTC)
This one's for Luke--Jj7362 19:07, December 22, 2009 (UTC)
--TallJediKnight(talk) 19:29, December 22, 2009 (UTC)
--Darth Revanon 20:54, December 22, 2009 (UTC)
Jonjedigrandmaster (Jedi Beacon) 21:53, December 22, 2009 (UTC)
Te Mirdala Mand'alor 01:30, December 23, 2009 (UTC)
—Master Jonathan(Jedi Council Chambers) 02:52, December 23, 2009 (UTC)
—Kirean Malk 10:02, December 22, 2009 (UTC)
Pranay Sobusk ~ Talk 13:16, December 23, 2009 (UTC)
--Jawaman No, I did NOT steal your droid! 14:52, December 23, 2009 (UTC)
--AbigailAbernathy 17:51, December 23, 2009 (UTC)
--sw1997 09:08, December 24, 2009 (UTC)
I've always wondered if the carpet matched the drapes, if you know what I mean. OLIOSTER (talk) 23:42, December 27, 2009 (UTC)
SithStalkerO66 06:28, December 28, 2009 (UTC)
Mandoad1212 09:09, December 28, 2009 (UTC)
She is sooo hot in thrawn trilogy!!!darth htawhsa 08:14, December 29 2009 (UTC)
Mara was a WHOLE LOT SEXIER than Jarael, even when she was 50 years old! Come ON!!GrandAdmiralJake 03:28, December 30, 2009 (UTC)
How did Luke ever end up with a women like her?Galen Starkiller Marek 03:34, December 30, 2009 (UTC)
She is so awesome!!! --Mando1300 19:22, December 31, 2009 (UTC)
Hottest chick in TFU together with Juno Eclipse. Jawaman No, I did NOT steal your droid! 17:14, December 22, 2009 (UTC)
Pranay Sobusk ~ Talk 13:16, December 23, 2009 (UTC)
Oh, Maris, you need some love, too, don't you? Leialover229 20:39, December 23, 2009 (U#TC)
Those twin tonfa lightsabers are a nice touch DarthImperial 04:43, December 24, 2009 (UTC)
--Darth Revanon 07:03, December 24, 2009 (UTC)
— Fiolli {Alpheridies University ComNet} 23:12, December 24, 2009 (UTC)
Tonfa lightsabers FTW SithStalkerO66 06:28, December 28, 2009 (UTC)
is that what they call them now? I thought they were guard shotos.Te je'karta mand'alor 12:45, December 30, 2009
I need a name (Complain here) 16:45, December 31, 2009 (UTC)
Pranay Sobusk ~ Talk 13:16, December 23, 2009 (UTC)
FIRST!!! SithStalkerO66
Per my nomination of her; only person to re-enslave Anakin. Taral, Dark Lord of the Sith -Just shy, not antisocial: You can talk to me!- 15:05, December 22, 2009 (UTC)
--Jj7362 19:08, December 22, 2009 (UTC)
— Fiolli {Alpheridies University ComNet} 23:12, December 24, 2009 (UTC)
I need a name (Complain here) 16:45, December 31, 2009 (UTC)
Heh. Jonjedigrandmaster (Jedi Beacon) 21:53, December 22, 2009 (UTC)
Chief Daala--Darth Revanon 05:36, December 23, 2009 (UTC)
Heh. Leialover229 20:39, December 23, 2009 (UTC)
Bleh. SithStalkerO66 06:28, December 28, 2009 (UTC)
Mandoad1212 09:13, December 28, 2009 (UTC)
I need a name (Complain here) 16:45, December 31, 2009 (UTC)
--Jj7362 19:08, December 22, 2009 (UTC)
Pranay Sobusk ~ Talk 13:16, December 23, 2009 (UTC)
--Jawaman No, I did NOT steal your droid! 14:53, December 23, 2009 (UTC)
Pranay Sobusk ~ Talk 13:16, December 23, 2009 (UTC)
Oh, yeah... Leialover229 20:39, December 23, 2009 (UTC)
—Master Jonathan(Jedi Council Chambers) 02:52, December 23, 2009 (UTC)
Funny how no-one voted for her. SithStalkerO66 06:28, December 28, 2009 (UTC)
I call it aggressive negotiations.--Jj7362 19:10, December 22, 2009 (UTC)
--Darth Revanon 20:55, December 22, 2009 (UTC)
LtNOWIS 07:13, December 23, 2009 (UTC)
--DARTH SIDIOUS 2 (Ota yhteyttä—muokkaukseni) 09:56, December 23, 2009 (UTC)
Pranay Sobusk ~ Talk 13:16, December 23, 2009 (UTC)
Aggressive negotiations, hell yeah!--Jawaman No, I did NOT steal your droid! 14:54, December 23, 2009 (UTC)
--Bonslywizard 15:33, December 23, 2009 (UTC)
Padmé will always be my Miss Star Wars. Leialover229 20:39, December 23, 2009 (UTC)
Who wouldn't vote for the wife of the Chosen One? AnakinVader12 16:20, December 24, 2009 (UTC)
I like her eyes. Wokling 15:28, December 28, 2009 (UTC)
--Loneshark1138 18:51, December 30, 2009 (UTC)
Axx1000 06:58, December 31, 2009 (UTC)
Per Jj7362. ZEM talk to me! 10:20, December 31, 2009 (UTC)
I need a name (Complain here) 16:45, December 31, 2009 (UTC)
Pranay Sobusk ~ Talk 13:16, December 23, 2009 (UTC)
Pooja growed up nice Enochf 19:00, December 22, 2009 (UTC)
LtNOWIS 07:13, December 23, 2009 (UTC)
Pranay Sobusk ~ Talk 13:16, December 23, 2009 (UTC)
--Jawaman No, I did NOT steal your droid! 14:55, December 23, 2009 (UTC)
Because the name Pooja is ridiculous. Ridiculously sexy, that is. Leialover229 20:39, December 23, 2009 (UTC)
— Fiolli {Alpheridies University ComNet} 23:12, December 24, 2009 (UTC)
Mandoad1212 09:21, December 28, 2009 (UTC)
Apparently her beliefs are strong and true. What a shattering concept --ChancellorValorum 01:07, December 23, 2009 (UTC)
My favorite Twi'lek after Aayla.--Jawaman No, I did NOT steal your droid! 14:56, December 23, 2009 (UTC)
Mandos Rule! VhettSkirata Mando'ade 19:15, December 22, 2009 (UTC)
--Darth Revanon 07:04, December 24, 2009 (UTC)
gotta vote for the aliit, eh. go RavTe je'karta mand'alor 12.46, December 30, 2009
Hot!--Jawaman No, I did NOT steal your droid! 15:43, December 23, 2009 (UTC)
She could kick your #*@, admit it. ~ SavageBob 06:30, December 23, 2009 (UTC)
Pranay Sobusk ~ Talk 13:16, December 23, 2009 (UTC)
i agree!Te je'karta mand'alor 12.49, December 30, 2009
— Fiolli {Alpheridies University ComNet} 23:12, December 24, 2009 (UTC)
—Master Jonathan(Jedi Council Chambers) 02:52, December 23, 2009 (UTC)
Pranay Sobusk ~ Talk 13:16, December 23, 2009 (UTC)
--Jawaman No, I did NOT steal your droid! 15:45, December 23, 2009 (UTC)
She can get crushed under my column any time PointGiven (But...it was so artistically done...) 03:03, December 24, 2009 (UTC)
Her sarcasm made her a favorite in the multiplayer mode. DarthImperial 04:45, December 24, 2009 (UTC)
One of my old favs. SithStalkerO66 06:28, December 28, 2009 (UTC)
Kinda looks like me. :p Wokling 15:28, December 28, 2009 (UTC)
wow. I'm never the first to do anything!Te je'karta mand'alor 12:50, December 30, 2009
I need a name (Complain here) 16:45, December 31, 2009 (UTC)
Would feel bad if I didn't vote for another Jedi that nearly had Vader…--Jedi Kasra (comlink) 04:22, December 24, 2009 (UTC)
My all-time favourite female jedi master. Xirifus 15:18, December 22, 2009 (UTC)
She's alive, she's dead, she's alive, she's dead Enochf 19:01, December 22, 2009 (UTC)
--Jj7362 19:11, December 22, 2009 (UTC)
She had a lot of courage to be a Jedi master, so she earns my respect and my vote. User:Commander Code-8 07:41 December 23 2009 (UTC)
--Darth Revanon 21:09, December 22, 2009 (UTC)
Arguably the most powerful female out there.--Bonslywizard 22:05, December 22, 2009 (UTC)
Te Mirdala Mand'alor 01:32, December 23, 2009 (UTC)
--Jawaman No, I did NOT steal your droid! 14:57, December 23, 2009 (UTC)
Here's to hoping she shows up in Clone Wars in 2010. Leialover229 20:39, December 23, 2009 (UTC)
Absolutely. — Fiolli {Alpheridies University ComNet} 23:12, December 24, 2009 (UTC)
Funny how they didn't put Ahsoka here. SithStalkerO66 06:28, December 28, 2009 (UTC)
Wise, powerful and beautiful. Wokling 15:28, December 28, 2009 (UTC)
Admrial Thrawn 20:39, December 28, 2009 (UTC)
Te je'karta mand'alor 12:51, December 30, 2009
What a question. --Janeway 14:46, December 22, 2009 (UTC)
Pranay Sobusk ~ Talk 13:16, December 23, 2009 (UTC)
She's awesome PointGiven (But...it was so artistically done...) 03:03, December 24, 2009 (UTC)
Pranay Sobusk ~ Talk 13:16, December 23, 2009 (UTC)
--Jawaman No, I did NOT steal your droid! 15:45, December 23, 2009 (UTC)
Hot.--Jawaman No, I did NOT steal your droid! 15:46, December 23, 2009 (UTC)
--Jj7362 19:13, December 22, 2009 (UTC)
Pranay Sobusk ~ Talk 13:16, December 23, 2009 (UTC)
Gave birth to the Chosen One! I can't believe she doesn't have more votes. <3 Shmi Algernon'sMuffins 13:05, December 24, 2009 (UTC)
— Fiolli {Alpheridies University ComNet} 23:12, December 24, 2009 (UTC)
Mandoad1212 10:52, December 30, 2009 (UTC)
I'm with you. Any ex-wife of Boba is a...wait...--Mando1300 19:24, December 31, 2009 (UTC)
--CT-1987 14:16, December 22, 2009 (UTC)
Pranay Sobusk ~ Talk 13:16, December 23, 2009 (UTC)
--Jj7362 19:15, December 22, 2009 (UTC)
Te je'karta mand'alor 12:54, December 30, 2009
What, no one likes plants? Go green xP Te Mirdala Mand'alor 01:33, December 23, 2009 (UTC)
— Fiolli {Alpheridies University ComNet} 23:01, December 26, 2009 (UTC)
Anakin made me do it.--Jj7362 19:15, December 22, 2009 (UTC)
--Darth Revanon 21:10, December 22, 2009 (UTC)
—Master Jonathan(Jedi Council Chambers) 02:52, December 23, 2009 (UTC)
--13:16, December 23, 2009 (UTC)Pranay Sobusk ~ Talk
--Jawaman No, I did NOT steal your droid! 15:01, December 23, 2009 (UTC)
Tinwe 18:21, December 31, 2009 (UTC)
Even though she was a Dark Side apprentice and everything, she was Anakin's lover. --Mando1300 19:25, December 31, 2009 (UTC)
No votes for the rancor lady? --Mando1300 19:27, December 31, 2009 (UTC)
I need a name (Complain here) 16:45, December 31, 2009 (UTC)
— Fiolli {Alpheridies University ComNet} 23:12, December 24, 2009 (UTC)
Tyber J. Kenobi's Droid 14:39, December 22, 2009 (UTC)
How can you not find a traitor hot?!? darth htawhsa, 08:18 December 29, 2009 (UTC)
Why does she get no support? Visas is clearly superior to Brianna. — Red XIV (talk) 00:28, December 23, 2009 (UTC)
yeah. she's so coolTe je'karta mand'alor 12:56, December 30, 2009
--Jj7362 19:17, December 22, 2009 (UTC)
—Master Jonathan(Jedi Council Chambers) 02:52, December 23, 2009 (UTC)
Pranay Sobusk ~ Talk 13:16, December 23, 2009 (UTC)
If only because I'm working on the other one. QuiGonJinn (Talk) 14:26, December 29, 2009 (UTC)
Redeemed, saved, then blowed up on Dantooine by the Sith Enochf 19:02, December 22, 2009 (UTC)
Zam Wesell was, like, everybody Enochf 19:02, December 22, 2009 (UTC)
--Jj7362 19:17, December 22, 2009 (UTC)
—Master Jonathan(Jedi Council Chambers) 02:52, December 23, 2009 (UTC)
Zam deserves more respect than she gets.--Bonslywizard 03:36, December 23, 2009 (UTC)
Pranay Sobusk ~ Talk 13:16, December 23, 2009 (UTC)
How can I not? I just got the FA done on her. — Fiolli {Alpheridies University ComNet} 23:12, December 24, 2009 (UTC)
Boba: Daddy! Auntie Zam's naked!!! SithStalkerO66 06:28, December 28, 2009 (UTC)
At least when she was in human form.—B-Boba Fett! Make the check out to "Boba Fett" 14:31, December 29, 2009 (UTC)
Sithstalker, there's a line, and you just crossed it. Boba can shoot her on his own.Te je'karta mand'alor 12.58, December 30, 2009
Pranay Sobusk ~ Talk 13:16, December 23, 2009 (UTC)
She is so womanlike. QuiGonJinn (Talk) 14:25, December 29, 2009 (UTC)
I need a name (Complain here) 16:46, December 31, 2009 (UTC)