The requests for protection page is where users can request permanent or temporary page protection. Alternately, this page is also used to request unprotection once the dispute has been resolved.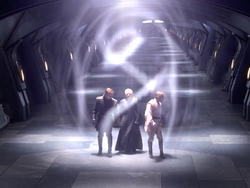 Page protection is an administrative power that restricts editing access to certain types of users. Pages can be semi-protected, which means that anonymous and users who have had a registered Wookieepedia account for fewer than four days cannot edit the page or any of its sections. For more severe situations, pages can also be given full protection (aka "locked"), meaning that only the administrators can edit it. An example of a page that is permanently locked is the Main Page. (So don't ask for it to be unprotected.)
In addition, users can request unconditional protection and unprotection of pages in their userspace, like user pages, signature pseudo-templates and talk page archives. Talk pages themselves, however, can only be protected in case of repetitive vandalism. For a more detailed explanation of what pages can or should be protected, see Wookieepedia:Protection policy.
Please add a new request for protection/unprotection under the appropriate heading, either "Requests for protection" or "Requests for unprotection," in the following format:
===Current date===
#[[Article name]] Give a brief reasoning for changing the page's protection level.
 Sign with your signature (by typing ~~~~). 

#*Subsequent details should be added under the initial report in this form.


A member of the friendly administration will then review your request and make a decision. All administrative postings on this matter are encompassed under administrative autonomy.
Always preview the page before submitting your report to avoid problems with formatting.
Listings on this page will be removed after one month and stored in the archive.
Also, one can approach an individual administrator and request for a page to be locked or protected on their talk page.
Requests for protection
Edit
Requests for unprotection
Edit
Mandalore the Ultimate I would like to suggest that Mandalore the Ultimate's protection levels are lowered to semi-protection or unprotected. His wiki page appears to be greatly outdated, as several retcons have occurred years past the information in the article. There are also multiple traits regarding the character that could be made into catergories for the page (such as his skills or equipment), but are not because of its locked protection settings.LeDebonairian (talk) 10:17, October 11, 2019 (UTC)


I myself have many new details to offer for the character in terms of his quotes, aliases, equipment, skills, apperance, and personality, and of course intend on doing so with the proper sources cited. I do hope you an admin can work this out, as I'm quite eager to expand on Mandalore the Ultimate's profile. Thank you.
Community content is available under
CC-BY-SA
unless otherwise noted.