Join the WookieeProject Galaxy's Edge team in our current group focus: an attempt to improve the articles on Black Spire Outpost proprietors through collaborative effort! See the associated project page if you are interested in participating!
Bright suns,

<insert name here>

! WookieeProject Galaxy's Edge is a coalition of Wookieepedians aiming to give the best possible coverage of the content from Star Wars: Galaxy's Edge and its tie-in media, along with any topics directly related to the planet Batuu. If you are interested in contributing, please look through the remainder of this page to familiarize yourself with the project and its goals. Happy editing, and 'til the spire!
Chat
If you're either interested in finding out more about our project, or are already a member, please join our Discord channel. For full instructions on how to join, visit Wookieepedia's Discord page.
Current nominations
| Date Nominated | Nomination | Nominator | Last Edited |
| --- | --- | --- | --- |
| 17 October 2021 | RF-1634 | Liverpool92 | 12:04, 20 October 2021 |
Live your own Star Wars story!

[

]

Star Wars: Galaxy's Edge
, a new themed land in
Disneyland Park
in
Anaheim
,
California
and
Disney's Hollywood Studios
in
Orlando
,
Florida
, is set during the time of the
sequel trilogy
and continues the story of the
Resistance
and the
war
against the
First Order
on the
planet
Batuu
, one of the last stops before the
Unknown Regions
and
Wild Space
. Live your own
Star Wars
story at the
Disneyland Resort
and the
Walt Disney World Resort
!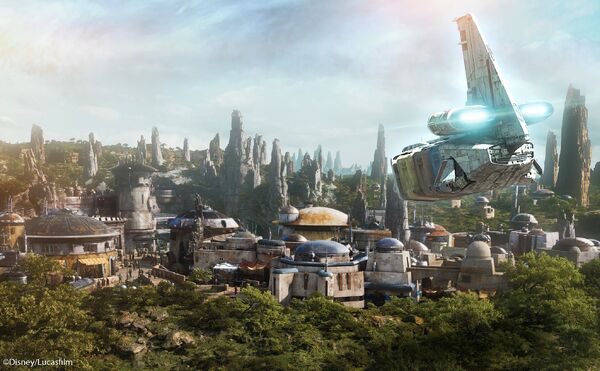 Once a popular stop for travelers during the
years
before
hyperspace
travel,
Batuu
became bypassed when the invention of
hyperspace routes
rendered the outpost obsolete. Millennia later, the
planet
's largest
settlement
,
Black Spire Outpost
, was a haven for those who did not wish to be found, but they could not hide forever. The
Resistance
arrived and set up base in the ruins outside the village, and the
First Order
soon followed. Now the citizens of Black Spire are stuck between two factions at
war
, hoping to stay low and continue business as normal.
Characters
Droids
Flora and fauna
Locations
Organizations
Attractions

[

]
Retail

[

]
Food & beverage

[

]
Click the links below to see full menus!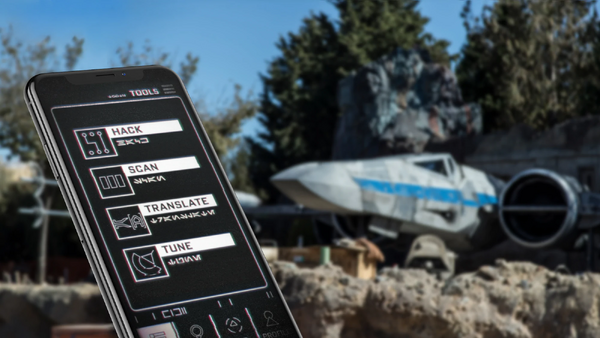 Guests are able to use the Play Disney Parks app, available on both the App Store and Google Play, to transform their smartphones into a datapad that can be used to hack into security cameras and droids, translate various spoken and written languages, tap into communications, and scan hidden cargo! Your datapad will also keep track of your personal profile, such as your credits and reputation score, and it will broadcast that information via Bluetooth to nearby workers if you so choose, allowing them to interact with you accordingly.
Disneyland Resort

[

]
Where to stay
[
]
Disneyland Resort has three on-site hotel resorts that can be booked through their website. (On-site and off-site reviews on Disney Tourist Blog)
Disneyland Resort has numerous non-Disney hotels nearby, and reviews for those are included in the links above.
How to get in
[
]
Access to Star Wars: Galaxy's Edge is subject to capacity. If the land has not reached its maximum capacity, guests will be allowed to walk in the same as any other area of Disneyland. If the land is closed due to reaching capacity, however, a virtual queue system will be activated. In order to get a spot for your party in this queue, you must book a boarding pass through either the Disneyland App or via select FastPass kiosks throughout the park. Be advised, once you confirm your party for the pass, you will not be able to change it. After acquiring your boarding pass, keep an eye out for a notification telling you your boarding party is now allowed access to Star Wars: Galaxy's Edge. If you are using the traditional paper FastPass kiosks, digital boards throughout the park will indicate which boarding groups are being accepted into the land. There is no time limit once you enter the land, so feel free to soak it all in for however long you wish! It is worth noting that, in the case where not enough people exit the land to open it up to more boarding parties, existing groups in the queue may not gain access. Being in the virtual queue does not guarantee access to the land.
Oga's Cantina, Droid Depot, and Savi's Workshop are three of the most popular experiences in Black Spire Outpost. These each require reservations, so be sure to grab them before heading over. Reservations can be made up to 14 days in advance, and reservations can be made starting at 7:00 every morning before park open via the Disneyland website (Cantina reservations here, Droid Depot here, and Savi's Workshop here). If you have a reservation for either experience, you will be guaranteed access to the land one hour prior to your reservation, no boarding pass needed. You also do not need to leave the land after your reservation is over. Be advised, you pay for Savi's Workshop while making your reservation, and there is no refund if you cancel. As for Oga's Cantina, canceling will require you pay a $10 cancellation fee per person in your party.
Walt Disney World Resort

[

]
Where to stay
[
]
Walt Disney World Resort has over 20 on-site hotels that can be booked through their website. (On-site and off-site reviews on Disney Tourist Blog)
Walt Disney World has numerous non-Disney hotels nearby, and reviews for those are included in the link above.
How to get in
[
]
Star Wars: Galaxy's Edge at Disney's Hollywood Studios does not feature a reservation system. Access to the land is granted using the same style of virtual queue used at Disneyland after the reservation system ended at that park.
Reservations are required for Oga's Cantina, Droid Depot, and Savi's Workshop in Orlando, as well (Cantina
here
, Droid Depot
here
, and Savi's Workshop
here
).
Talk page template