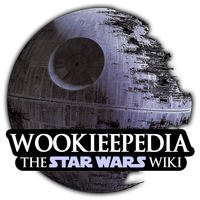 Wookieepedian of the Month is an award given to outstanding Wookieepedians each month. To nominate someone, please list the editor's username below and explain why you are nominating them. Users who are eligible to vote will then review the nominations, vote for a nominee, and an administrator will present the award on the 1st of the following month.
Some general rules for the nomination process:
Try to nominate someone who has not received the award before. Nominations for those who have won the award within the past six months will be dismissed.
Please vote only once, and only vote for another user. Duplicate votes, self-votes, and self-nominations will be removed.
Voting ends at 0:00 UTC on the first day of the month. Nominations for the next calendar month may be placed as soon as the winner is announced.
The nomination process is pursuant to the Wookieepedia Consensus policy. Administrators can find instructions for closing the vote here.
Congratulations goes to our most recent winner, Samonic, for May 2022! See History for a complete list of past winners.
Nominations for June 2022
Support
Oppose
Comments