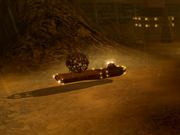 The Wreckage Excavation Vehicle (WEV) is a large, floating barge equipped with heavy-duty repulsorlifts. It is designed to move heavy cargo from one point to another and is very slow.
During the Galactic Republic's conquest of the junk world Raxus Prime, one such vehicle was in the service of the Separatist, assisting in transporting a recently unearthed object of ancient Sith creation aboard a Techno Union transport.
Appearances
Edit
Community content is available under
CC-BY-SA
unless otherwise noted.