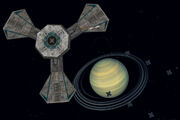 The Xizor cargo container product line was a series of various-sized and modular freight containers designed to store cargo during transit in space and through hyperspace. Manufactured by Xizor Transport Systems, they could be loaded onto a wide variety of transports and freighters. The product line ranged from Class-A through Class-L, each class offering different shapes, sizes, and suggested cargo. Xizor Transport Services containers were specially designed to protect their cargo against the rigors of space travel, but were also a cheap and useful place to store cargo outside a space station rather than occupying valuable pressurized volume inside. As a result, storage depots across the galaxy had clusters of cargo containers floating in space near more permanent installations.
Appearances
Edit
Community content is available under
CC-BY-SA
unless otherwise noted.