"What can we do?"
"Go tell Droid Control to shut down the droid."
―Yané and Sabé, dealing with a malfunctioning training droid
Yané was a Human female who served as one of the handmaidens of Queen Padmé Amidala of Naboo.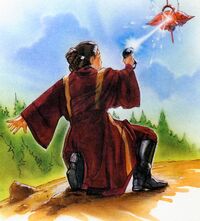 Yané and the other handmaidens were trained in self-defense and marksmanship by Amidala's head of security, Captain Panaka.[3] She was also a musician.[4]
The youngest of all the handmaidens,[5] Yané remained behind with Saché during the Trade Federation Crisis when the Queen, Sabé, Rabé and Eirtaé fled the planet with the help of the Jedi.[2]
Yané was later reunited with Queen Amidala and her fellow handmaidens after the Battle of Naboo, and attended both Jedi Master Qui-Gon Jinn's funeral and the Celebration Parade.[2]
Yané was portrayed by Candice Orwell in Star Wars: Episode I The Phantom Menace.[2]
↑  "Handmaiden ID Roster" – Sompeetalay's Source Blog, Tim Veekhoven's StarWars.com Blog (content now obsolete; archived from the original)
Community content is available under
CC-BY-SA
unless otherwise noted.