Yavin Prime,[6] also known simply as Yavin,[7] was an orange gas giant, nearly 200,000 kilometers in diameter,[4] located in the Outer Rim Territories.[1] It was orbited by twenty-six moons,[2] three of which could sustain humanoid life.[4] One of those moons, Yavin 4, was once home to the ancient Massassi warriors[1] and was used by the Rebel Alliance.[7]
The primary hyperlane used to reach Yavin was the Hydian Way; its trace hyperlanes included the Pinooran Spur, the Junction-Tierell Loop, and the Yavin Bypass.[8]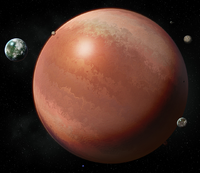 In the year 0 BBY,[9] the Millennium Falcon orbited the gas giant to reach Yavin 4, where the headquarters for the Alliance to Restore the Republic were located. Later, Yavin 4 was almost destroyed by the Death Star, a planet-killing battle station designed by the Galactic Empire.[7]
Behind the scenes
Edit
The gas giant Yavin first appeared in Star Wars: Episode IV A New Hope, the first Star Wars film.[7]
The Rogue One Ultimate Visual Guide states that Yavin has twenty-six moons.[2] However, Star Wars: Complete Locations states that the planet has thirteen moons.[10]
Appearances
Edit
Non-canon appearances
Edit
Notes and references
Edit
Community content is available under
CC-BY-SA
unless otherwise noted.