"Go now. No longer safe for you, it is."
―Yoda
Yoda's kybuck was a kybuck given to Jedi Master Yoda by a Woolwarricca Princess when he saved her from dying.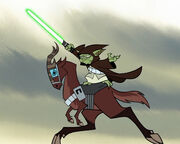 When Yoda returned to Coruscant, he brought this kybuck with him and kept it in an expansive garden beneath the Jedi Temple. Yoda took great care of the animal, but never assumed the role of its master and owner, as it was frowned upon for Jedi to take possessions, and instead became a friend to the creature. He called to it through the Force rather than by name, as he believed it did not need one.
Although not normally used as mounts, Yoda's slight size allowed him to ride the beast. The kybuck only wore a light saddle, as well as protective visors for combat or other reasons. Yoda rode it many times during the Clone Wars, including on an unidentified planet and even for some period of time during the Battle of Coruscant. Even though the kybuck was brave enough to stand before the Separatists, Yoda was too concerned for his friend and sent him back to the safety of the Jedi Temple.
While viewing a pen of Kybucks at the Coruscant Livestock Exchange and Exhibition, Leia Organa Solo recounted that Master Yoda had ridden a kybuck on occasion during the final days of the Clone Wars.
Yoda's kybuck was eventually killed on a patrol of the sith world of Korriban presumably by a wild Tuk'ata sometime during the waning days of the clone wars.
Appearances
Edit
Community content is available under
CC-BY-SA
unless otherwise noted.