Diversity Alliance is the eighth book in the Star Wars: Young Jedi Knights series.
Publisher's summary
Edit
Everyone is searching for Bornan Thul. Not only is he father to one of Jacen's and Jaina's fellow students, he holds the key to a secret coalition gaining power in the New Republic.
The young Jedi Knights race across the galaxy to find him—but they may be too late. For their true enemy is about to show its treacherous face. And it will be shockingly familiar…
Bornan Thul is on the run since he is in possession of a navicomputer that leads to an Imperial plague warehouse. Not only are his son Raynar Thul and his Jedi companions after him, he is also the target of the Diversity Alliance - a fanatical all-alien anti-Human activist group. The Jedi must find Bornan Thul at all costs but they must also face the growing Diversity Alliance and an entire galaxy of bounty hunters...
Appearances
Edit
Characters
Creatures
Droid models
Events
Locations
Organizations and titles
Sentient species
Vehicles and vessels
Weapons and technology
Miscellanea
Cover gallery
Edit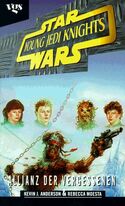 Notes and references
Edit
Community content is available under
CC-BY-SA
unless otherwise noted.