Doctor Strange in The Multiverse o Madness - The Loop
Play Sound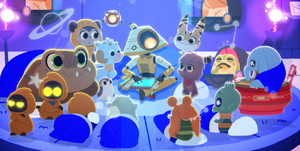 "Truly wonderful the mind of a child is."
―Yoda
"Youngling" was a term for any child of any species.[2] Force-sensitive younglings who were taken to the Jedi Temple to be trained as Jedi were known as Jedi younglings.[1] Anakin Skywalker once carried out a massacre on a group of Jedi younglings in the Jedi Temple on Coruscant, as part of the Great Jedi Purge.[3]
Children needed adult supervision, as they could not take care of themselves on their own. When Din Djarin left the Child aboard the Razor Crest all by himself, Peli Motto admonished the Mandalorian, saying that he couldn't leave a child alone like that and that he had a lot to learn about raising a young one.[4] Bringing kids into gladiator matches was considered inappropriate; when Djarin brought Grogu to the Carnita arena, a spectator pointed out that this was no place for a child, but the Mandalorian merely replied, "Wherever I go, he goes."[5]
As a child, Ben Solo coined a new name for himself but later dismissed it as "stupid." Snoke encouraged Solo to discard his old identity by taking the name that he invented during his childhood. He believed that children did not practice self-deception; therefore, they had only pure thoughts and were true to their nature.[6]
During or after 34 ABY,[7] several different species of younglings were stationed onboard the Youngling Care Space Station. The Safari droid M1-RE, a specialized member of the Galactic Society of Creature Enthusiasts, cared for and studied the younglings.[8] The Safari droid SF-R3 asked M1-RE to show viewers on the Holonet how they could take care of their younglings, and M1-RE did so while being recorded by the cam droid CAM-E.[9]
Appearances
[
]
Non-canon appearances
[
]
Sources
[
]
Notes and references
[
]
↑ Learn to Care for Creatures and Aliens in Star Wars Galactic Pals on StarWars.com (backup link) places Star Wars Galactic Pals after the events of Star Wars Galaxy of Creatures. The Galaxy of Creatures book depicts all episodes of Star Wars Galaxy of Creatures taking place a relatively short time apart. Star Wars Galaxy of Creatures – "Porgs" features porgs on Batuu, a species that Star Wars: Tales from the Galaxy's Edge establishes were not present on the planet Batuu until the Resistance brought them there between the events of Star Wars: Episode VII The Force Awakens and Star Wars: Galaxy's Edge. Therefore, porgs must have been introduced to Batuu between those stories, which corresponds to 34 ABY per this reasoning, meaning that the events of Star Wars Galaxy of Creatures take place during or after 34 ABY.