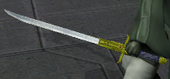 The Zabrak vibroblade was a type of vibroblade believed to be constructed by the Zabrak, although rarely seen to be used by them. This weapon was finely balanced and many Zabrak believed that their skill in combat made the use of this particular vibroblade unnecessary. Similarly to other vibroweapons, the blade was protected by a cortosis-weave to minimize damage from lightsabers.
Appearances
Edit
Community content is available under
CC-BY-SA
unless otherwise noted.