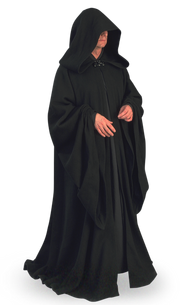 Zeyd cloth was a black-patterned,[1] non glossy fabric that had square waffle styled weaves.[2] The Dark Lord of the Sith Darth Sidious wore monk-like, hooded robes made of zeyd cloth.[3] While some leaders would have donned clothes of the finest synthsilk, Sidious continued to wear his plain Sith robes when he became Galactic Emperor after the end of the Clone Wars.[1]
In Star Wars: Episode VI Return of the Jedi, the Emperor's cloak was made of black waffle cotton. However, the first incarnation of the Emperor's hooded robe, as seen in the original version of Star Wars: Episode V The Empire Strikes Back, was a simple, navy blue garment of non-textured cloth.[4]
Community content is available under
CC-BY-SA
unless otherwise noted.