Jurassic World: Dominion Dominates Fandom Wikis - The Loop
Play Sound
"Here we are marooned on a planet swimming in lava, forced to creep through the spookiest Imperial stronghold this side of Ziost, and he just has to wander off."
―CR-8R, on Lieutenant Thom Hudd
Ziost was a world[2] located in the galaxy's Outer Rim Territories in grid square R-4 on the Standard Galactic Grid.[1] It was one of the noteworthy worlds of the ancient Sith.[2]
As mentioned by the Jedi writer Kli the Elder in the Rammahgon, Ziost once had a fertile environment, until the Sith established their presence there and laid waste to the planet just as they did with Moraband, Exegol, and Asog.[3] In the time of the Galactic Republic, Ziost was quarantined along with the likes of Malachor, Jaguada, and Rhelg, and its affiliation to the Sith was hidden from history.[2]
Ziost was the original site of an ancient Sith ritual altar that was present in the Grand Republic Medical Facility on Coruscant[4] in 19 BBY.[5] Sometime between 0 BBY and 4 ABY,[6] CR-8R considered Fortress Vader on the planet Mustafar the spookiest Imperial stronghold this side of Ziost.[7]
Behind the scenes
[
]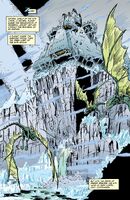 Ziost was first depicted in the new Star Wars canon on a galactic map in Star Wars: The Force Awakens Beginner Game, a 2016 Fantasy Flight Games' Star Wars Roleplaying boxed set.[1] In Star Wars Legends continuity, Ziost was featured as the "central world of the Sith" in third issue of the comic miniseries Tales of the Jedi: The Golden Age of the Sith, which was written by Kevin J. Anderson, and published by Dark Horse Comics[8] on December 11, 1996.[9]
Appearances
[
]
Sources
[
]
Notes and references
[
]
↑ Star Wars Adventures: Return to Vader's Castle 5 ends with Darth Vader imprisoning Vaneé, and as shown in Star Wars Adventures: Shadow of Vader's Castle, he doesn't get released until after the end of the Galactic Civil War. As he appears in Rogue One: A Star Wars Story, which Star Wars: Galactic Atlas places in 0 BBY, Star Wars Adventures: Return to Vader's Castle 5 must take place some time after 0 BBY. Star Wars Adventures: Tales from Vader's Castle takes place immediately before Star Wars Adventures: Return to Vader's Castle, and Star Wars Adventures Free Comic Book Day 2019 takes place during Star Wars Adventures: Tales from Vader's Castle, meaning that Star Wars Adventures Free Comic Book Day 2019 takes place after 0 BBY. As Star Wars Adventures Free Comic Book Day 2019 features Darth Vader, who dies in 4 ABY according to Star Wars: Galactic Atlas, then this series must take place some time between 0 BBY and 4 ABY.
↑ "Droid Hunters"—Star Wars Adventures Free Comic Book Day 2019
↑ Star Wars: Tales of the Jedi - The Golden Age of the Sith (1996) #3 on Marvel Comics' official website (backup link) (First printing)